Sport that gummy smile with the help of perio surgery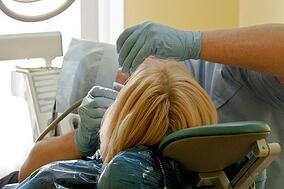 Perio surgery is a dental procedure performed by periodontists for people, who are looking to improve their smile and appearance. A smile is the most important feature of the face. Everyone likes a person with a pleasant smile. However, some people hide their smile and keep tight lipped because of various dental problems. For a person to sport a smile, they should be confident about their appearance. Periodontal surgery can help to improve your appearance and restore that lost confidence if it has been robbed due to periodontal disease.
Why You May Need Perio-like Surgery?
Here are some of the top reasons that take away the privilege of a smile from people's faces and make them look old before their time.
A disfigured gum line: Some people's teeth look small because they have gums that cover the larger portion of the teeth. They make the teeth look small and uneven. Also the gum line is uneven in a few cases, making some teeth appear larger than the others. A surgical procedure is conducted to remove the excess gum tissue and an even gum line is restored through the procedure. The dental surgeon will craft the gum line in such a way, that it will restore your smile on your face.
Large teeth with exposed roots: In some people, the gum line starts receding and causes exposure of tooth and roots in worst cases. When the gum line recedes, it makes you look older than you actually are. Most of us think that the effects of ageing can only be seen on the face; however, aging takes its toll even inside our mouths. A gum graft surgery will cover the exposed tooth and the roots and restore the natural gum line. This surgery will also protect the gums from receding further and prevents tooth decay.
Gums and joint degeneration: As we become older, we do experience tooth density loss. The loss of tooth causes indents in the jawbone and the gums. The jaw line recedes as a result and the tooth is almost dislocated in the process. This causes unnatural looking teeth and makes even the best of people look ugly. A surgery like ridge augmentation corrects this defect and brings back the jaw to its natural position. In this process the dislocated tooth is removed and replaced with natural looking teeth.
The above discussed procedures are all a part of periodontal surgeries. These surgeries are performed to address the basic problems that we have within our teeth. All the procedures are performed under general anesthesia.
What to expect during consultation?
The dentist will first have a detailed discussion about your inhibitions to understand your expectations. He or she may ask several questions about your dental health and overall health. We suggest that you go with an open mind and be frank about your concerns. On the first consultation:
The dentist will conduct a thorough examination of your mouth
The dentist will study the faulty areas in depth and mark areas for improvement
The dentist will also notice other subtle factors like how you smile, your style of smiling and so on
The dentist will then suggest improvements and will discuss about the surgery
As human beings, we all have the innate need to look good to be accepted in the society. That is why we are so involved in grooming ourselves. Unfortunately, there are some conditions that are beyond our control which come in the way of our appearance. Dental procedures, such as perio surgery, are there to fix our appearance and restore our lost confidence.