"A warm smile is the universal language of kindness." – William Arthur Ward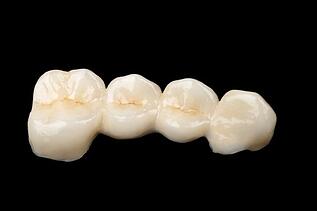 A beautiful smile is the best asset any person can have. It enhances self-confidence and adds dynamism to the personality. However, this smile might get affected by dental issues like tooth decay or missing teeth. The gaps due to missing teeth might make you feel uncomfortable about your appearance and also adversely affect the functioning of your teeth. But, advancements in dental technology have come up with easy solutions to tackle these unsightly gaps. One of these solutions that can restore your smile is a dental bridge.
What are Dental Bridges?
Dental bridges are a time-tested and affordable treatment for broken or missing teeth. It is called a 'bridge', as it bridges the gap left behind by the missing teeth. These bridges are fixed in the mouth with the support of adjoining teeth (called abutments). These abutments act like anchors for your bridge.
The present technology offers flexible treatment options. You can get removable bridges or a fixed one, depending on your requirement and budget.
Benefits of Dental Bridges
There are numerous benefits associated with getting these bridges. Some common ones include:
Smile restoration
Aids proper speaking and chewing
Proper distribution of biting force by replaced tooth/teeth
Prevents drifting of adjoining teeth into the gap
Maintenance of proper shape of the face
Gives a youthful appearance
Dental Bridge Types
A dental bridge can be classified into three main categories:
Also referred to as implant bridges, these are the most common bridges available at dental clinics. An implant bridge is fixed to replace the missing or affected teeth with a crown or implant on both side and a pontic placed in middle. Generally, it covers the adjoining teeth, as well. Tooth preparation is required to make adjustments to position the bridge. It is created using a combination of porcelain with ceramic or metal.
Cantilever bridges are used in situations where the missing tooth/teeth can get support from just one side. A single bridge is crafted to provide support for the whole restoration. This crown/bridge comprises of two pontics. These are considered best for maximum restoration of natural tooth structure. These bridge, however, are not recommended for anterior teeth at the back of the mouth. The underlying reason is the amount of force borne by the molars for biting. This drawback has shown an adverse effect on the use and recommendation of these bridges.
Also referred to as Maryland bonded bridges, these are the recent innovation in dental restoration technology. This dental bridge requires minimal tooth preparation. Also, the pontic contains two small wings that are attached to the abutments. This procedure involves micro-etching the abutment to make the bond stronger for effective restoration. Earlier, the pontic wings were created using metal (silver/gold). However, with advances in dental technology, resin-bonded wings are more preferable. The resin wings are designed to match the natural tooth color. This type of bridge is generally used for single tooth restoration. However, they also can also be used for restoration of one-three teeth in some specific cases.
Maintaining Your Bridge
Generally, dental bridges might last as long as 15 to 20 years, if properly cared for. It is important to follow an effective oral hygiene routine to increase the longevity of your bridge.
Regular brushing and flossing are an essential part of effective dental hygiene. Any damage/decay to the bridge-supporting bone or teeth might loosen the bridge. Also, if you have had a procedure for dental bridge, avoid biting or chewing on hard things with the restored tooth/teeth. Most importantly, go for regular dental checkups to prevent deterioration of your teeth.