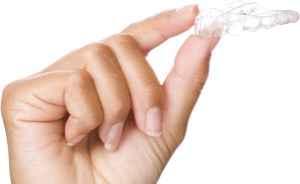 Do you want to perfect your smile, but without the unsightly and painful experience of braces? If that's the case, invisible aligners could be for you.
Virtually undetectable, these clear trays are inserted over your teeth, and are completely removable, meaning you can get that smile you always wanted without having to worry about standing out in a crowd with ugly braces.
Here are just some of the benefits:
Let's start with the obvious; they're invisible! Most of the time, no-one will even notice you're using clear aligners on your teeth.
They are more comfortable than most normal braces. You may notice some slight discomfort and trouble with speech at first, but this quickly fades as you become accustomed to wearing them.
They work just as well, if not better than normal "train track" braces. Every individual is different, with mild to moderate problems treated within 12 months. More severe problems can take up to 18 months.
They're easy to insert and remove – and you can do it yourself.
Because you can remove them completely, they're easy to clean.
They don't interfere with your dental hygiene; you can still brush your teeth as you normally would, reducing your risk of gum disease and tooth decay. Just take the them out, brush your teeth, and replace them.
You can take them out to eat. No worries about embarrassing pieces of food getting stuck in your braces, and no painful chewing. It's so simple!
Invisible aligners may also benefit your oral health; particularly your periodontal tissue health. Often, gums can appear red or swollen due to having teeth that are overcrowded or widely spaced. It's also a sign of periodontal disease. When properly aligned, teeth fit more securely into the gums, providing the best defence possible against periodontal problems.
How are they fitted?
If you decide clear aligner trays are for you, you must first consult your dentist or orthodontist for an examination to determine whether you are suitable for the treatment. If you are, you'll have some molds, photos and x-rays taken of your teeth, as the clear trays need to fit perfectly to do their job. Think of it as the start of your journey towards having the teeth you always wanted.
Most patients are suitable for invisible aligners, and they are widely available. More people are probably wearing them than you think! So why not look into invisible alignment orthodontics today?