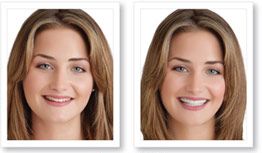 Temporary cosmetic teeth are an inexpensive choice for false teeth or dentures. The difference between the two is that unlike dentures that are dentist prepared, these cosmetic teeth are temporary and a "do-it-yourself" dental fixture.
They wrap around the exterior of present teeth, covering any gap between them and are there only for look sake. They are a perfect choice for social gatherings, interviews and any event where you want to show off your confident, dazzling smile.
It is important to remove them as you are about to drink or eat anything hot, especially liquids. These cosmetic teeth are first softened in hot water and then easily molded to individual fit. These teeth are not tailored to your requirement and generally available in custom sizes in the market under various brands, such as Billy Bob Teeth, SecureSmile Teeth and Imako Cosmetic Teeth.
Basic Cost
Temporary cosmetic teeth are affordable options that cover the teeth in a thin and comfortable manner. They are strong, pliable and at the same time, lightweight. You would not face any trouble while speaking or closing your bite. They can be kept the entire day and snapped off at night.
The cost of basic cosmetic teeth is anywhere between $25 and $80. Those teeth that cost more will not have adhesive and would be easy to fit. They are bleached and natural colored, thus making it difficult for an onlooker to distinguish them from your natural teeth. Such teeth would cost around $40 for a single arch.
The cosmetic teeth that range in the lower category come with an adhesive and fitting bead. There are certain brands that cater to both lower and upper ends and cost around $50 for each arc. However, there are often hidden cost included, like cost of shipping and handling. Sometimes, the teeth come with just the fitting beads, while the adhesive costs extra. So while buying a cosmetic teeth, you should keep all these considerations in mind.
Additional Cost
You should always remember that there is always an additional cost attached to temporary cosmetic teeth. This includes:
They are just a provisional solution and not permanent and thus would not last life long. One would have to keep replacing them once in a while. However, their life depends upon how carefully they are taken care of.
If you have lost multiple teeth and want to cover a large gap, you would require extra fitting material, other than what is offered in the pack. This may cost you $3 to $5, depending how much gap has to be covered and how robust you want it to be.
Many companies advise to use cosmetic teeth without dental adhesive. However, such teeth don't stay for long and it is best to buy an adhesive that would cost anything between $5 and $15.
Discounts
Some companies offer discount on costume cosmetic teeth and they cost $10 after concession for an arch. However, they don't come with adhesive which needs to be bought separately. Moreover, they have another disadvantage that they tend to appear unnatural.
Pack Size
Cosmetic teeth are usually available in two packs:
Six Packs: It's a bulk pack containing six pieces, each of large bleached, small bleached, small natural and large natural cosmetic teeth.
Three Packs: This pack offers three pieces each of small, large, bleached and natural teeth.
Temporary cosmetic teeth are a great option for those who don't want to get stuck in a vicious circle of visiting a dentist and undergoing dental implant. With these cosmetic teeth you can easily bring back your lost smile and the greatest news is that you can even keep them stain-free and white by chewing a whitening gum at night!