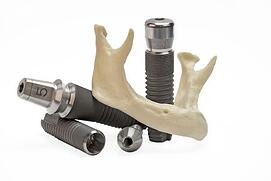 Jaw implants could be the answer you have been seeking for so long. Losing your teeth to gum disease or poor oral hygiene can be devastating. This can make you self-conscious about your appearance and turn you into a social recluse. You also will have low confidence levels. Thankfully, you do not have to live your life without teeth and smile. You can speak to your dentist about getting implants in your jaw that can support a set of new teeth and give you back your self confidence.
A Younger You with Implants
Implants in the jaw can correct several teeth-related problems. Some of these include:
Replace multiple missing teeth and do away with dentures and removal bridges
Replace teeth that are loose or do not have adequate bone support because of gum disease
Replace teeth that are damaged irreversibly due to tooth decay or trauma
Anchor ill-fitting dentures which can be painful to wear and also cause you to get embarrassed socially
Without teeth, your jaws will begin losing calcium and this will cause them to shrivel up and shrink. As a result, it will affect other healthy teeth in your mouth. Furthermore, losing teeth is never pleasant. It hinders your ability to speak clearly and chew food properly. Also, many missing teeth can make you look older than what you are. With shrunken lips and caved in cheeks, you will look and feel older than what you really are. You can kiss these problems goodbye with jaw implants.
A Permanent Solution
Dentures and removable bridges are not permanent solution to missing teeth. Even if your jaw does not have sufficient bone, the dentist will use bone grafting to help increase the bone structure of the jaw and ensure the implants have adequate support. Over time, these implants will fuse with the surrounding bone and form a solid and permanent support for the crowns that are placed over them.
With jaw implants, not only do you get back your teeth, which look real and function like real teeth, you also get a smile makeover! Implant dentistry has progressed significantly in the last decade. Today, dentists are able to work miracles and offer patients with several missing teeth a permanent solution that helps restore their confidence level. With a smile that looks both beautiful and natural, you will not stop showing your pearly whites!
What are these Implants?
These implants are nothing but a titanium post that is implanted into the jawbone. It can be for a single tooth or multiple teeth. When there is significant bone loss due to gum disease, dentist may opt for all-on-four implants. Such implants replace all the teeth in the mouth and focuses on both jaws.
Traditional implants have individual posts that are surgically implanted into the jawbone. On the other hand, all-on-four implants have four implants on the upper jaw and four implants on the lower jaw. Once the implants fuse with the bone, a process that can take a few months, the crowns are placed on the individual posts. With all-on-four implants, a denture-like structure is fixed to the four posts in each jaw.
The Bottom Line
Jaw implants can give you back your ability to smile, chew food properly and mingle with family and friends. They basically help to restore your confidence levels that you lost when you lost your teeth. So, if you have several missing teeth, speak to your dentist today about these implants and find out if you are a good candidate for them. If you are a smoker, you will have to stop smoking for this procedure to be a success. Also, smoking is one of the main causes for gum disease. So consider yourself forewarned!