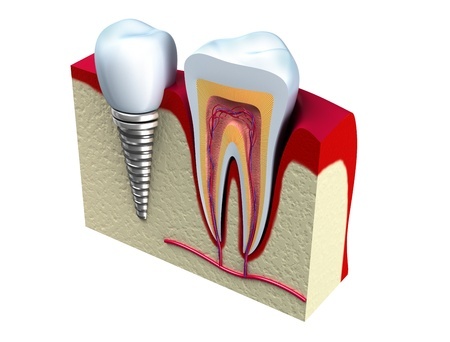 A smile, they say, is the best remedy for every sinking feeling, but this smile can only be more profound if the pearly whites remain true to their name. Most often we tend to forget that the set of teeth, we own can be a matter of great importance, and so we let them be. But for those who are very worried about a good impression, having a good set of teeth is as important as having the right manners. Dental implants can be one sure way to get let your teeth do all the impressing. However, more often than not, dental implant cost keeps people away. Understanding the cost and benefits of the implants will go a long way in helping you make an informed decision.

What is a Dental Implant?
Also known as endosseous implant or fixture, the dental implant is a surgical component that interfaces with the bone of the jaw or skull. This is usually done so support a dental prosthesis such as a crown, bridge or denture. Basically, it is an artificial tooth root. People, who have lost a tooth or have a periodontal disease or an injury, are usually considered good candidates for dental implants.
Broadly, dental implants are of two types - Endosteal or in the bone and Subperiosteal or on the bone. While the former is most commonly used dental implant, the latter is not. Endosteal is used for patients as an alternative to bridges or removable dentures. Subperiosteal is used for patients who are unable to wear any conventional dentures and also those who have a minimum bone height.

It is found that candidates who need dental implants are often in good general and oral health. It must be remembered that in order to support the dental implant, adequate bone is required in the jaw.

Cost of Dental Implants
It is safe to say that the process of dental implants is rather expensive as when compared with other traditional alternatives. There are, however, a number of factors on which the dental implant cost depends upon. These factors include:
The dentist or dental surgeon whom you visit
How many teeth and which teeth you need to replace
How many implants are actually required in order to support these teeth
Your geographical location
The dental insurance scheme that you are enrolled under

It is very important to talk to your doctor and then figure out as to what is required and how much would the process actually cost. For a single tooth implant it is typically less expensive that for a number of them. Additionally, if procedures such as bone grafts, extractions and extensive imaging or modelling is done, then the price can rise to a great extent. A single tooth could cost a patient anywhere from $1,000 to $3,000.

Advantages of a Dental Implant
Despite the high dental implant cost, it is a very significant move for your oral health, and therefore it is important to check its benefits.
Dental implants are permanent and durable, thereby assuring you healthier teeth.
The price factor goes unnoticed when you realize that it is effective for many years, thereby actually becoming cost effective.
The dental implant looks and functions like natural teeth and this makes the person extremely comfortable.
A dental implant does not require much maintenance. However, you would need to brush and floss them like your real teeth.
They do not require any sort of modifications in order to adjust the teeth.
It is a very successful process of teeth restoration and there is minimal risk added to this process.

A patient can get a dental implant at the local dentist's office, and usually the operation requires some sort of anesthesia. It is a normal surgery done in various stages, and can prove to be very effective for most people. So, don't let dental implant cost keep you from improving your self-confidence and quality of life.