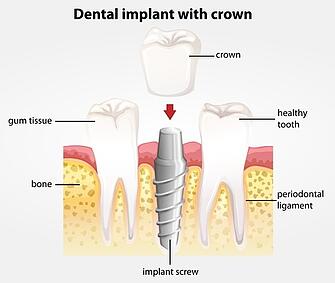 If your broken, or missing, teeth have started to affect your life, the time is perfect to opt for Sugar Land dental implants. Missing or broken teeth can alter the way you look, and the way you smile. It can affect your confidence level, and change the way you interact with people. It can, most certainly, affect the way you eat your favorite foods as well.
How do you know it's time to invest in dental implants?
Here are the 10 signs that you are ready for brand new dental implants.
Do you have any missing teeth?
Do you have any broken teeth?
Are you currently wearing dentures that are uncomfortable?
Does your mouth have bridges?
Are you not able to eat comfortably because of the missing teeth or the dentures?
Do you feel self-conscious about how your teeth look now?
Do you think your looks have been altered because of the missing teeth?
Are you looking for a more permanent solution for your missing teeth, instead of dentures?
Do you, in spite of the missing teeth, still have a strong bone structure?
Are your gums healthy enough to handle the implants?
Before you decide to get dental implants, you should consider all the above mentioned factors. These signs cover most of the medical and psychological issues people with missing or broken teeth struggle from. It also covers the basic medical conditions you need to satisfy before getting dental implants. If you have at least 5 or more of the above mentioned signs, it is time for you to visit a qualified dentist to get a brand new set of permanent teeth.
The basics of dental implants
A dental implant, essentially, is used to replace a broken or missing tooth. It is a titanium screw that will be used as a replacement to the root of a natural tooth. Dental implants can replace natural teeth in the upper and the lower jaw, and they are incredibly solid. You can get a single tooth replaced thanks to this procedure, and you can get multiple teeth replaced too. Full mouth restoration is also possible for people who do not want to wear dentures for the rest of their lives.
Dental implant is a revolutionary procedure that has changed the lives of many people. It is a personalized and customized procedure that helps people suffering from tooth decay, root canal problems, severe trauma to the mouth and old age amongst others. The titanium screw and the porcelain crown used will be customized, so that it fits into your mouth just the way your original teeth did. You will not feel any discomfort at all once the entire procedure is completed.
If you think you are ready for dental implants, you should get in touch with a skilled and experienced cosmetic dentist. They will assess your medical and dental conditions and let you know if it is possible for you to get these implants. The highly skilled and knowledgeable dentist will provide you with all the information you need about the procedure and the expected results, so that you can make an informed decision. Dental implants have become highly common among all sections of the population, so you need not worry about the actual process.
Get in touch with your local cosmetic dental clinic as soon as you can, so that the dentist can get started on the procedure that will alter your smile for the better! Just like thousands of other patients, you too can regain your beautiful smile and self-confidence in social settings.
Are you worried about what the dental implant procedure entails? Do not worry, as Sugar Land dental implants technology has advanced significantly to ensure optimal results. Furthermore, dentists today are more attuned to patients' anxiety and stress and offer advice and comfort through their caring dental assistants, as is the practice at Mann Dental Care.