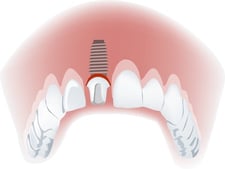 Everybody's first question about dental implants is how much do dental implants cost. And, when they find out, they often wonder whether the cost is really worth it. With the amazing rate at which technology is advancing today, modern dental implements like these are no longer accessible to just a few privileged people. Even laypeople can avail of this modern miracle. Some dental insurance policies even cover this technique.
Misconceptions about dental implants
Most people wrongly assume that dental implants will eat up all of their cash and that they are priced at extremely exorbitant rates. This is not true. So, how much do dental implants cost? Well, the cost of dental implants is quite high as compared to traditional dental implements, like bridges and dentures. But, the prices are affordable, especially if you have a dental insurance policy or your company offers a special dental plan.
Dental implants are the absolute latest technology that is available in the market for single tooth or multiple teeth replacement. They look as good as the real thing, even up close and they are guaranteed to fool everyone, except an experienced dental professional.
What are the main reasons for getting dental implants?
If you do your research on dental implants online, you will find all sources give you more or less similar information - dental implants are a lot more comfortable compared to dentures and that they are more functional and more pleasing aesthetically, which is all absolutely true! However, this does not stop people from asking how much do dental implants cost; and the cost of these implants can be a major deterrent for some due to their high price. If you have been researching the pros and cons of dental implants then you must definitely be willing to invest a lot in order to acquire the perfect smile.
The two major reasons that most people opt for dental implants are:
For a better 'image'- Most people can't stand the thought of being without a single tooth, forget having missing multiple teeth! Missing teeth can negatively affect one's self confidence and when there is an excellent long term solution to this dilemma- most find it extremely difficult to say 'No'! This is the most popular reason for people opting for dental implants. Dental implants are a fuss-free, practically painless and quick way to get your teeth back.
For ease of chewing- Trying to chew with missing teeth can be very difficult. Most food that we consume is hard to eat. In fact, only soft food like mashed potatoes can be eaten without much chewing.
What are you investing in exactly?
Dental implants are a major investment- one not to be taken lightly. The benefits of dental implants are:
Excellent aesthetic quality- Only the highest quality ceramic material is used in the production of dental implants ant this is done in order to make the implants look as close to 'natural teeth' as is scientifically possible. Not even close friends, family members and colleagues will be able to tell that there's something different!
A fully restored chewing ability- Dental implants function exactly like normal teeth- you won't be able to tell the difference. While you can opt for dentures, they often lead to sores due to the intense gum rubbing involved in chewing.
A long term answer- Dental implants last for at least 20-30 years. Sometimes even more, depending on level of maintenance. They do not require much future restoration.
Comfort- The entire tooth is replaced with a dental implant. The process is done in such a way that it does not feel like there's a foreign object embedded in your gum. These implants provide oral comfort.
If you are looking for a permanent, comfortable and aesthetically pleasing remedy for replacing a missing tooth, then you shouldn't be asking how much do dental implants cost. The cost of getting these implants is absolutely worth it!