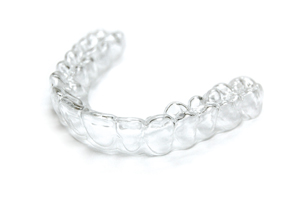 That man with the dazzling smile, the woman whose smile lingers long after she's left the room: you could be that person.
What are Clear Teeth Aligners?
Clear Teeth Aligners are a series of thermoplastic molds(trays), that move your teeth in small increments into optimal position to give you that picture-perfect smile.
What can These Invisible Trays correct?
They can correct a variety of issues including teeth that are too crowded, teeth that are spaced too far apart, and bites that are misaligned.
How do They work?
After a thorough examination and a discussion with you about what you want, the dentist will give you several sets of trays custom made for your mouth and your unique straightening strategy. You'll wear one set (a top tray and a bottom tray) for about 2 weeks, then change to the next set in the sequence.
How long does straightening with Invisible Teeth Trays take?
Though each smile is different, the procedure generally takes from 6 months to a year to produce the smile that's right for you.
Do These Clear Tryas Hurt?
No. The first time you put in a new set of trays, you'll be able to tell that your teeth will need to move a little to be a perfect fit. This happens over the course of two weeks, and during that time you shouldn't have any pain or discomfort. The thermoplastic is smooth and transparent—nearly invisible.
Do I wear them 24/7?
You'll want to wear them all day and all night, removing them only to eat, floss, and brush. Once your teeth have shifted into position, you'll move to the next tray in the sequence. You'll be able to feel the tray urging your teeth into position—but it doesn't hurt—especially when you realize you're on the path to straight, beautiful teeth. Once you get accustomed to a set of trays, you'll probably forget you're wearing them.
How will wearing Clear Orthodontic Trays affect my life during treatment?
Other than remembering to remove them to eat, brush and floss and to change to the next set of trays at the appropriate time, you probably won't notice any effect, except your eager anticipation to see the final result! They fit so closely over your teeth that they don't interfere with speech, laughter or sleep and most people won't notice that you're wearing them. You won't have to worry about having a mouth full of metal, nor do you have to worry about the embarrassment of having bits of food caught in your braces. You'll remove your trays, eat, brush, floss and rinse and pop your trays back in so they can continue their work.
How often do I have to go to the dentist to have my Teeth Alignment checked?
You'll need to visit the dentist every 6 weeks for a check up and the next set of trays.
Do they have have a good track record?
The best! Over 490,000 people now have beautiful smiles because they chose to use Invisible Trays to straighten their teeth.
Can I whiten my teeth and use Clear Aligners Trays at the same time?
Yes you can! Whitening your teeth at the same time will result in a dazzling end product. You'll look like a million and you'll have the self-confidence to go with it. A bright new smile can change your life!

If you want to be that man with the dazzling smile or the woman whose smile lingers long after she's left the room, isn't it time you tried Clear Teeth Aligners?