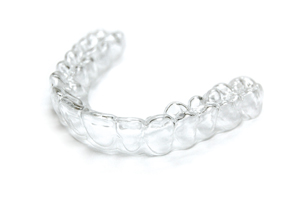 Who needs braces when there are invisible teeth aligners? One of the newest technologies to straighten teeth, you can now have straighter, completely aligned teeth in 6 months to a year with no one even knowing your undergoing orthodontic treatment until they suddenly notice your bright gorgeous smile.

Finally it is possible to use an advanced orthodontic method that requires no metal brackets or braces. Using custom fabricated aligners molded specifically to your teeth, using clear tray aligners is a comfortable way to straighten your teeth with few even knowing that it is happening. This slow re-positioning of your teeth is accomplished by moving the teeth every three weeks with a new aligner fitting molded to your teeth for a comfortable fit.
Five Reasons People Are Choosing Clear Aligners Over Braces
With the new teeth alignment technology there are five major differences between regular braces, and the new invisible aligners:
You are able to take out the aligners to brush, eat and floss.
Changing into new aligners bi- weekly for gradual, pain free re-alignment.
Teeth are moved by increments so small they are difficult to notice.
Visits to the dentist for adjustments every 6 weeks for new aligners.
You can have completely re-positioned teeth within 6 months to a year.
Simplicity, invisibility, convenience and ease of use has made clear alignment therapy the first choice for teeth re-alignment today. Teeth alignment therapy is not going to disrupt your lifestyle in any way. The therapy can hardly be noticed by others. Free consultations are offered at the Sugarland Dental offices of C. Mark Mann.
Used By More Than Half a Million People
We know that confidence is raised when people feel free to smile comfortably. It enhances our relationships and boosts our self esteem. With custom-molded clear aligners you can correct issues such as crowded teeth, gaps and spaces between teeth, overbites, misaligned bites, over-jets and bites that are too open.
Teenagers are especially happy to use invisible teeth aligners for their bite corrections. The clear aligner does not interfere with regular activities or cause discomfort. You can remove the invisible aligners for special events, eating and brushing very easily. This versatility boosts confidence and increases levels of comfort and acceptance. Have results others have had to earn by tolerating wearing metal and bands for braces.
Forget About Bands and Metal Irritating Your Mouth With Invisible Teeth Aligners
For certified alignment therapy call Dr. Mark Mann at (281) 494-9400 for the Sugarland Texas office. Schedule your appointment to find out if you qualify for Clear Aligner Therapy. Competent staff are standing by to receive your call.

See if you are a candidate for Clear Aligner Therapy treatment by talking with Dr. Mann's office staff. Certified in Clear Alignment Therapy, Dr. Mann is committed to your dental health and beautiful smile. He offers multiple avenues for affording your therapy. Ask about in-office Zoom power laser bleaching for higher-quality teeth whitening included with your alignment therapy.

Dr. Mann makes certain patients have access to Care Credit with no interest fees that start as low as $1. Low minimum monthly payments are also available.
There are no longer any reasons not to have your brightest possible smile as soon as you are ready.

Braces and perfectly aligned teeth with a beautiful smile are more affordable now than ever. Care Credit makes it possible to avoid upfront costs pre-payment penalties and other fees. Add-on charges and revolving credit lines can be arranged for ongoing treatment needs. Find affordable perfect smiles by calling to find out about invisible teeth aligners today.