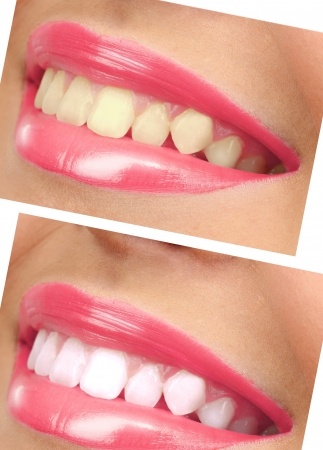 Your smile can win people over or leave them disgusted. If you have beautiful white teeth, your smile will appear warm and inviting. This will attract more people to you and also help you look younger and confident. On the other hand, if your teeth are stained and yellow, people will run a mile from you, each time you flash your teeth. This can result in low self-esteem and self-confidence. Fortunately, if you have yellow and stained teeth, you can visit your dentist for a course of teeth bleaching. This can do wonders for your teeth and confidence.
Types of Tooth Stains
Before you visit your dentist for in-office bleaching of your teeth, you should know the types of tooth discoloration you and other people can suffer from.
Extrinsic Stains: When the surface of your teeth gets discolored due to dark-colored drinks and beverages, tobacco and foods, the stains are known as extrinsic stains. Remember, these stains also can occur due to regular wear and tear. Superficial stains can be removed with brushing and dental cleaning. However, if the stains are severe, you would require bleaching. If you do not deal with severe stains quickly and promptly, they ultimately will reach your dentin and become permanent.
Intrinsic Stains: As the name suggests, these stains develop on the interior of your teeth. Usually, these stains develop due to exposure to certain minerals while your teeth are forming, ingesting too much fluoride and aging. Intrinsic stains can be removed with take-home whitening materials and usually take months, if not a year, to show signs of improvement.
Bleaching Your Way to a Sparkling White Smile
Dentists use peroxide-based bleaching agents that contain either hydrogen peroxide or carbamide peroxide. In-office bleaching agents are potent and can get your teeth to sparkle within no time. However, because these agents are strong, they should not be kept on the tooth surface for a long duration. If this is applied for a long time, your teeth will get dehydrated and you will suffer from increased tooth sensitivity.
While bleaching agents are effective in whitening teeth, results depend on several factors. Some of these factors are as follows:
Your age
Kind of stain
Potency of the active ingredient in the bleaching agent
Frequency of the treatment
Duration of the treatment
Why Opt for Professional Bleaching of Your Teeth?
While there are at-home bleaching kits in the market, visit a dentist to bleach your teeth and make them white and sparkling is still the best option. If you are still swaying between visiting your dentist or heading to a drugstore, here are some benefits that will convince you otherwise.
1. Instantaneous Results: If you visit your dentist, you will see immediate results. At-home kits can take 2 to 4 weeks before you can see a noticeable difference in the shade of your teeth. However, if you visit a dentist, you will be walking out of the clinic with a whiter smile in just one day.
2. Sparkling White Teeth: As mentioned previously, dentists use strong bleaching agents and this makes them more effective than at-home kits that you can pick up from drugstores. So, you end up with whiter teeth even if you have severe stains.
3. Dramatic Results: Teeth whitening has become extremely popular, as many people are seeking whiter teeth for esthetics and cosmetic reasons. If your dentist uses modern whitening techniques, such as Zoom teeth whitening system, you will see dramatic results after a 2-hour session.
4. Removal of Deep Stains: Even if you have deep-seated stains on your teeth, you can rest assured knowing a dentist will be able to get rid of them using the right strength bleaching agent.
There is no doubt take-home bleaching kits are more affordable and hence, quite popular. However, visiting your dentist for teeth bleaching is a far better option, as you know a professional will apply the right concentration of the bleaching agent to ensure you get a white and bright smile within no time. Remember, the benefits of visiting a dentist for bleaching your teeth far outweigh the cost of the procedure.