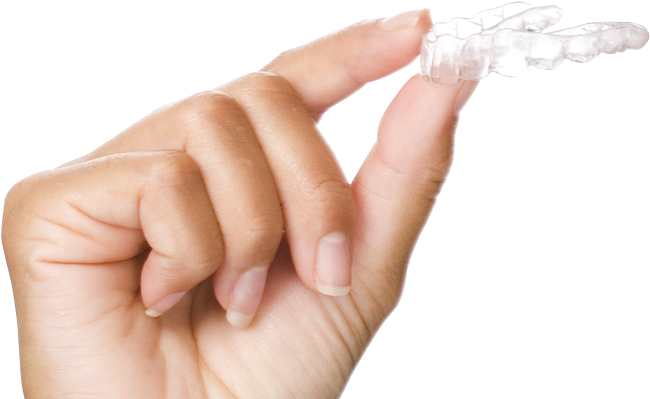 Don't let metal braces stand in the way of straight teeth when invisible aligners can give you a gorgeous smile without the associated stigma of adult-braces. If your teeth are crooked or misaligned, let Mann Dental Care take your faltering smile to one that shines with sheer confidence.
Let's look at four amazing advantages of clear aligner trays:
1. What Do You Mean You're Having Your Teeth Straightened?
One of the main advantages of these clear trays is their lack of visible components – most people won't be able to tell you're undergoing aligner therapy! As the clear aligner trays are custom-fit from molds of your teeth, they fit seamlessly and their sheer appearance means you can smile all the way through your treatment without worrying others can see you are having your teeth straightened. these clear trays are perfect for:
misaligned or crooked teeth;
over-bites and under-bites;
unusual spacing.
Dependent on your individual requirements, they take between 12 to 18 months to straighten your teeth.
2. With Clear Aligners You Are Able to Maintain Oral Health
The ease with which clear aligner trays can be removed means your oral health isn't compromised as it may be with metal braces. Your oral health is of major importance to your overall general health, and shouldn't be ignored. Maintaining optimum dental health while undergoing treatment with these trays is a must. The advantages of maintaining your oral health with aligners is clear:
full brushing-access to the surface area of your teeth;
ability to floss;
can use in conjunction with teeth whitening.
3. Clear Aligner Trays Work With Your Lifestyle
Don't buy into the fallacy that clear aligners take up too much of your time. In fact, it's just the opposite! they are designed to work with your lifestyle, not against it. After a consultation, x-rays, photos and molds of your teeth are taken so a dental technician can create the perfect, custom-fit trays for you.
As the aligner trays are easily removed, you don't need to worry about what foods you can and cannot eat – simply slip the them off when you're eating, then back on once you're done. Easy! Just remember, the more you wear your clear aligners, the quicker the results!
clear aligner trays work incrementally. A quick check-up at the dentist to ensure your teeth are aligning properly and you switch to your next set of aligners to continue your therapy. You can't ask for an easier lifestyle fit than that!
4. A Confident Smile While Straightening Your Teeth
Many adults believe they simply have to "live with" crooked teeth as the thought of braces just doesn't seem right. The thought of a 'metal smile' isn't at all appealing, but with clear aligners, you can smile with confidence, assured in the fact that your teeth-straightening therapy is virtually invisible!
There's no painful adjustments of wires, no metal components cutting your mouth, an no painful ache as your teeth are pulled into position. The gentle repositioning of your teeth with them is a pain-free therapy to return symmetry to your smile.
Why will clear aligner trays have you smiling with confidence?
non-invasive treatment;
pain-free therapy;
no visible components;
custom-fit for seamless appearance;
easily removable to maintain oral hygiene;
lifestyle convenience;
Dr Mark Mann has added one more advantage to the list: a free, no risk cosmetic dentistry consultation. Call your Sugar Land dentist to see if clear aligners are the perfect solution to straighten your teeth.
What is it about clear aligner therapy that would make you seek out treatment?