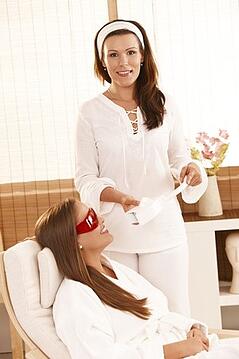 Your mouth is not just meant for a beautiful smile. It is the doorway to your health on the whole. When your teeth and mouth are healthy, you will stay healthy and also look younger. Straight, white teeth are associated with youth, while discolored and crooked teeth make a person look older. When your teeth begin to look yellow and stain due to your lifestyle habits and diet, it is time to head to your dentist for laser whitening of your teeth.
Lasers are not new to dentistry. They have been around since 1994 and more and more dentists are now using them to make dental procedures quicker and less painful for patients.
Uses of Lasers in Dentistry
Today, lasers are used in many dental procedures and some of them are as follows:
Biopsy: Using a laser, your dentist can remove a small tissue piece from your mouth and check it for cancer cells.
Lesion Removal: Certain lesions in the mouth can be removed with the help of lasers. One good example is canker sores, which can be extremely painful.
Gum Disease: If you are suffering from gum disease, your dentist can use lasers to reshape your gums and get rid of bacteria.
Dental Caries: Tooth fillings, no longer have to be painful. Using a laser, your dentist can remove tooth decay and prepare your tooth to accept the filling. Once the filling is put into place, the laser then helps to harden it, thereby making it a permanent filling.
Teeth Whitening: Lasers can hasten the teeth whitening process, as they can activate the bleaching agent.
Is Laser Whitening of Teeth Approved?
Even though lasers are being used ubiquitously around the United States for teeth whitening, the American Dental Association (ADA) has not given its nod to it. While the ADA is still keeping a close eye on lasers for teeth whitening, the U.S. FDA has given its approval to this whitening procedure.
In teeth whitening procedure, lasers are the heat source that improves the effect of the teeth bleaching agents. However, lasers also are used for many other procedures in dentistry.
Benefits of Laser Teeth Whitening
Most people think twice about laser teeth whitening because of the expense. It can be more expensive compared to other whitening procedures. However, your money will be well spent if you opt for this form of teeth whitening. If you are still skeptical, here are three reasons that should convince why lasers are great for teeth whitening.
1. Effectiveness: Laser teeth whitening is more effective compared to other whitening procedures. If you use at-home teeth whitening kits, you will not get the same results as you get when you opt for laser teeth whitening. In fact, the results can last up to 5 years, which is not the case with at-home whitening kits, where the results last anywhere from 6 months to a year.
2. Quick Results: You will notice dramatic results after a single session of laser teeth whitening. While you need several sessions to get the desired results, the fact that a single session can show practically instantaneous results is what makes laser teeth whitening highly sought-after.
3. Less Damage to Gums and Teeth: If you use OTC teeth whitening products without proper instructions, you can damage your gums and teeth. Did you know your gums and teeth can weaken if bleaching agents are not used correctly? When you go in for laser teeth whitening, your gums are protected with a rubber shield or a neutralizing agent. So, you have nothing to worry about.
You definitely will find your teeth and gum feeling much cleaner after the laser whitening session. Once you have your pearly whites, you can prevent staining by following your dentist's advice and recommendation. So, go ahead and make your appointment today with your dentist. You will not regret it.