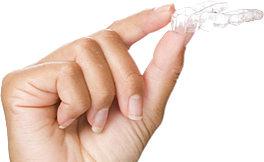 Clear aligner therapy is a type of orthodontic treatment wherein the patient wears aligners to correct overbites or improve the appearance of teeth. This therapy gradually moves the teeth, but the success of the therapy depends on willing the patient is to wear the clear aligner as instructed by the dentist.
So, if you are unhappy with the appearance of your teeth and you feel they are protruding, speak to your dentist about using clear aligner. After a thorough evaluation, the dentist will be able to tell you whether this therapy is apt for you. Should dentist recommend this therapy for you, here are some benefits that you will enjoy.
Advantages
While there are a few limitations and inconveniences with clear aligners, the benefits outweigh them. With this therapy, you enjoy the same end results that wired braces offer, but you also can avail certain other benefits during the treatment that traditional wired braces do not offer. It is these benefits that make clear aligners so popular; and that is why you should be looking at them as your preferred orthodontic treatment.
Doing Away with Brackets and Wires: As the name suggests, clear aligners are really clear. You do not have to deal with wires or brackets and hence, there is no need to hide your smile. In fact, when you put on the aligners, people will not notice them and you can smile without feeling self-conscious.
Ultimate Comfort: When you wear metal braces, the common complaint is extreme discomfort due to cuts and abrasions. This is not the case with clear aligners. They are comfortable to wear and do not cause trauma to the soft tissue in the mouth.
Convenience: With metal braces, you need to keep going back to the dentist to get the wire tightened as your teeth shift to improve bite function. With clear aligners, you tend to spend less time visiting the dentist. Therefore, you can use your time more meaningfully. Furthermore, clear aligners are easy to slip on and off. When you are eating, drinking or brushing your teeth, you can remove the aligners. Thereafter, you can slip them back on, giving you complete freedom when to use them.
Points to Consider
The success of this form of orthodontic treatment depends on you complying with your dentist's instructions. It is important you wear the aligners for the recommended hours during the day. Furthermore, you also need to maintain optimal oral hygiene during the treatment. It has been observed, patients, who do not have good dental hygiene, could suffer from tooth decay during the treatment. So, speak to your dentist how to brush and floss your teeth the right way when you are using clear aligners. If you neglect dental hygiene or do not follow your dentist's instructions, the treatment time will increase, as also the cost of the treatment.
In some patients, the aligners may have an impact on speech. However, this is temporary and when you get used to wearing the aligners, your speech will return to normal. Furthermore, while wearing the aligners, you may observe increased dryness of the mouth or salivation. In either case, speak to your dentist. There are medications available to treat this side effect of the aligners.
The Way Forward
Even though there are a few side effects of opting for clear aligner therapy, the advantages offered are many. Hence, do not let the side effects stop you from improving the appearance of your teeth or bite function. Consult your dentist today and find out how this therapy can help you smile without feeling bad about your teeth.