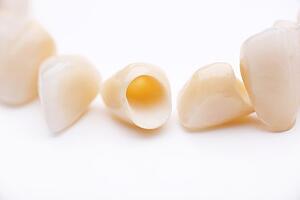 If you have missing, chipped or broken teeth, you definitely need the services of a dentist crown clinician. However, finding a good dentist is easier said than done. Remember a dentist, who provides dental crowns, will also offer several other dental care services. So, it is a good idea to make your selection carefully, as the dentist will be your long-term partner who provides your continuing oral health care.
Factors to Select the Best Dentist Crown Specialist

A good dentist will always provide treatment with the assistance of dental hygienists and dental assistants. Typically, the hygienist will provide professional teeth cleaning services; whereas the dental assistant will assist the dentist during a dental procedure, develop X-ray films, set up the anesthesia and also ensure the tools and equipment are properly sterilized after each procedure.
Here are the factors you should consider when choosing a dental specialist to fit dental crowns:
1. Experience: Make sure the dentist has been fixing dental crowns for a long time. This field of dentistry requires expertise and skill that comes from hands-on experience.
2. Qualification: It is important the dentist has the right training and experience to fit dental crowns. You should find a dentist, who not only excels in providing functional crowns, but also satisfies the aesthetic requirement. Hence, it is best to check out whether the dentist has the experience and training to fit the dental crowns and fulfill your needs and expectations.
3. Referral Process: Your dentist is going to be your long-term partner and hence, it is important to find out whether he has a referral process in place. This will take care of certain procedures that the dentist does not perform.
4. Professional Bodies: A dentist, who is a member of various professional dental societies, knows the importance of continuing education and keeping up-to-date with the latest techniques and advances taking place in the field of dentistry. You want such a dentist fixing crowns on your teeth.
5. Emergency Contact: A dentist, who is available after hours and on weekends, values his profession and patients. Such a dentist is an asset and one who you should be using for your oral health needs.
6. Patient Comfort: Find out how the dentist ensures his patients are comfortable during a dental procedure. Some dentists use medication or sedation dentistry to ease pain, discomfort and anxiety during a procedure. They even provide certain amenities to patients, such as heating pads and music. A good dentist will think first about his patients' comfort in all aspects.
7. Minimally Invasive Dentistry: Today, dental technology has advanced significantly. Many dentists use dental lasers and this is a preferable option to scalpels and tooth drilling.
8. Cost of Treatment: The cost of dental crowns is dependent on several factors. So, when you get an oral evaluation done, find out from the dentist crown specialist the cost of the entire procedure. The cost should include fees, cost of anesthesia, facility fees. If you have dental insurance, find out whether your dentist participates in it. This could help reduce the cost a little bit. If your insurance does not cover the procedure, a good dentist will have affordable financing options for patients.
9. Practice Location: You want a dentist, who is located close to your home or workplace, so that you can reach the office easily. Remember, dental crowns require at least 2 visits and you don't want a dentist office that is too far or difficult to reach.
10. Friendly Practice: Whether you are going for professional teeth cleaning, or dental crowns, you always will be apprehensive. That is just what happens when people have to go to the dentist. So, you want a dental practice where the team is friendly, courteous, well-trained and quality conscious. There is no point is using the services of a dentist crown specialist if you don't feel comfortable with the dentist or his team.