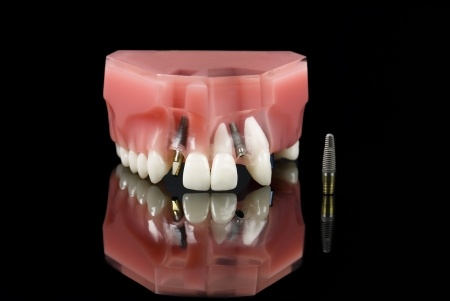 If you have missing teeth, there is no need to hide your smile behind your palms. You can replace the gaps with dental implants, but you will need a dentist implants specialist to perform the procedure. This procedure requires a lot of knowledge and skill and it is best to go with a specialist, who has years of experience behind him.
What are Dental Implants?

Dental implants are one of the best methods of replacing missing teeth. The implant is surgically inserted into your jawbone and covered with a porcelain crown that blends with the surrounding teeth. After getting a dental implant, it will be difficult for onlookers to identify the implant from your real teeth.
Dental implants are a permanent way to restore your smile and they are perhaps the biggest advancement modern dentistry has witnessed. The implant is made up of several parts. These parts are as follows:
• Titanium screw that is implanted into your jawbone
• Abutment that connects the screw to the crown
• Porcelain crown that looks, feels and functions like your real teeth
Importance of Dental Implants

People, who lost their teeth, are often very self-conscious about smiling and talking. Tooth loss makes speech unclear and also affects the health, as the person is unable to chew properly. As a result, it can lead to digestive problems and/or malnutrition.
When you get dental implants, you will be able to eat the foods you like and due to the stimulation provided by the implants, there will no bone loss from your jaw. Furthermore, losing teeth can cause your facial features to cave in, giving you an aged appearance. Once your missing teeth are replaced with implants, this appearance will disappear and you will look younger.
Causes of Missing Teeth

Tooth loss can occur due to several reasons. Some of these are as follows:
• Tooth decay
• Gum disease
• Trauma to the tooth
• Root canal failure
• Excessive wear and tear (can be caused due to bruxisim)
• Congenital defect
If you suffer from one of these dental problems, you should definitely consult a dentist implants specialist.
Dental Implants – The Permanent Solution

If you are worried about the pain and discomfort associated with the surgery to place the implants, you need not fear. Today, dentists use varying degrees of sedation to help ease the discomfort. It can be said besides dental implants, the other wonderful advancement in modern dentistry is sedation dentistry. It allows you to go through complex dental procedures without feeling a thing.
Based on your situation, your dentist will let you know the duration of the complete treatment and the associated cost. There is no doubt you will require a whole lot of tests to check the health of your teeth and gums and to determine whether you have sufficient bone density for the implants. Once these are out of the way, the dentist will schedule a day for the procedure. Make sure you have a friend drive you, as you will need someone to take you home.
You needn't be anxious, as the dentist will explain the entire procedure to you and discuss various options to manage pain and discomfort during the procedure.
Getting dental implants can a long-drawn procedure, as the implants need time to integrate and fuse with the surrounding bone before you can get the crowns. It is important during the recovery phase you maintain excellent oral hygiene, as this is crucial for the osseointegration process. It could take up to 6 months to heal from the initial surgery and another 2 months to get the crowns fitted properly. However, this duration varies from person to person.
Nonetheless, with the help of a dentist implants specialist, you can get new teeth that are just like your real teeth. And the implants, if taken care of properly, will last a very long time.
So find a reputable and experienced dentist implants specialist and say goodbye to missing teeth and hi to a dazzling smile!