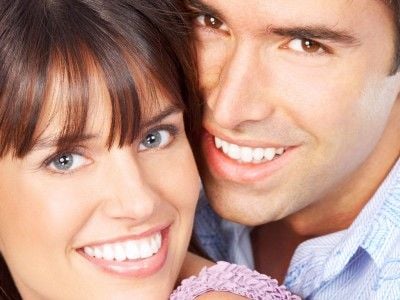 Gentle dentistry and expert dentistry come together in the caring atmosphere of Dr. Mark Mann's cosmetic dental treatment clinic.
Those who have experienced trauma from rough dental procedures find solace in the chair of Dr. Mark Mann because he uses the most gentle approaches while assuring the most technically advanced science, processes, materials and practices. His focus is patient-comfort.
The five safest and most common cosmetic dental treatments are not the most expensive. Gentle, affordable smiles can be delivered in just a few hours in the clinic of Dr. Mark Mann, cosmetic dentistry expert and educator. These five safe smile enhancement procedures include:
1) Laser Teeth Whitening
Use Of Over-the-Counter Products for Whitening Pose Risks
The majority of teeth whitening products contain hydrogen peroxide, a powerful whitening chemical. While over-the-counter products can seem more affordable while offering private opportunities to whiten your teeth, it is a risk for some people. Dental patients have reported excessive amounts of sensitivity to teeth after using them. This sensitivity can become quite problematic as it becomes bothersome when brushing teeth, eating and drinking.
2) Oral Sedation
Enjoy Gentle Cosmetic Dentistry Procedures for Smile Enhancement
Even if you are a person who has had trauma from aggressive dental practices you, too, can have a beautiful smile. Cosmetic Dentistry can be calming and pain-free when nitrous oxide or oral sedatives are administered properly. You can enjoy a relaxed enhancement experience today even though past dentist visits have not been. Dr. Mark Mann specializes in supporting the calm, peaceful, pain-free dental enhancement experience.
3) Porcelain Bridges
Porcelain Bridges and Crowns are Used for Missing or Broken Teeth
Broken teeth that are beyond restoration become candidates for bridges and crowns. Sometimes decay will take an entire tooth and there will not be enough left to repair. Once decay has reached the root, or a tooth has been removed, a porcelain bridge or crown can save your smile and fill that gap.

The crown is designed to cover your tooth and restore it to its original size. The return of the shape and color will enhance your smile to its original health. Porcelain is made specifically to match your natural tooth color and is often fused onto a metal base for strength, structural integrity and improved cosmetic dental treatment.
4) Porcelain Crowns
Choose Beautiful Porcelain Crowns and Bridges Rather Than Dentures
Well-made porcelain crowns and bridges can be wise restoration and replacement cosmetic dental treatment options for your smile. Avoid expensive extractions of sometimes all of the teeth-- by taking advantage of newer porcelain crown and bridge-making technology. Protect your bone structure and future dental health. Choose crowns or bridges over denture installation and use.
5) Porcelain Veneers
You've Probably Heard About Veneers For The Exquisite Smile
Profoundly versatile for smile restoration and enhancement, using veneers to correct chipped, misshapen, discolored and damaged teeth can dramatically enhance a smile in an extremely short period of time. One of the safest, quickest and pain free methods of smile enhancement, the use of veneers has helped cosmetic dentistry make dramatic leaps forward in augmentation of healthy, beautiful smiles.

People who are embarrassed about the look of their teeth sometimes work not to smile at all, in order to avoid embarrassment. This is unnecessary. Enjoy your bright smile to the fullest. Change the effect you have on others with the confidence this ushers in. Call us now if you have any question at all about cosmetic dentistry and your smile.