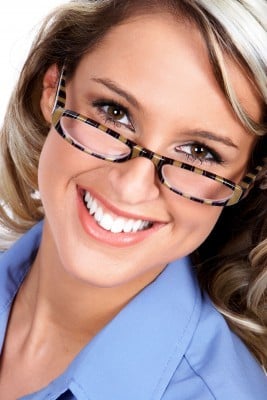 If you choose to drop by for a visit at the Cosmetic Dentist's office today, you can have a smile worth showing off before you know it.
Using A Clear Aligner
If you would like to see those slanted teeth find their way to getting straight, then the clear aligner therapy is for you! If your teeth overlap each other, slant to the right or left, or cover another tooth, you can have it fixed! Both children and adults can benefit from this procedure.


TMJ Treatment
Does your jaw click when you chew? Are you in pain while you are eating? These could very well be symptoms of TMJ. This is the term used for the joint muscles, which are found just in front of each ear. These muscles allow your jaw to move up and down. When they are not properly aligned, they can cause aches and pains in the face, jaw and earaches and even more harm. A visit to the Cosmetic Dental office can fix this!


Teeth Whitening
This is an amazingly simple procedure that can change how often you smile. You will find a much more confident you after this teeth whitening procedure. A mouth that can be mistaken for a model will be what you show to the world!


Full Mouth Bite Reconstruction
When you close your jaws, you should feel them fit together like a well-placed jigsaw puzzle. If they do not, then you may require some teeth to be moved around. If you require one or more of the following you might wish to explore the full mouth bite reconstruction procedure from a Sugar Land Cosmetic Dentist.


need to rearrange the way your jaws close
require replacement or repair of several teeth
are affected by tooth decay
have worn or broken teeth
If you choose this procedure, not only will you be bringing back a fantastic smile you might not have seen for a while, but you are also encouraging better overall health. You may be experiencing headaches or grinding of your teeth, or even a click from your jaws when you open and close your mouth. All of these uncomfortable symptoms may disappear with this treatment.

Scared of the dentist? Fear no more with sedation used to put you at ease. You won't even feel it! For these procedures, drop by the Sugar Land Cosmetic Dentist office and find the new, perfect you!