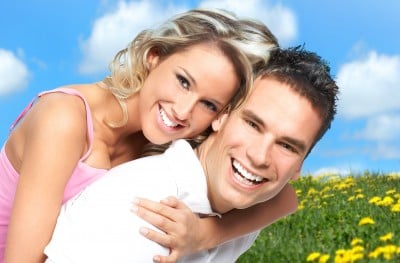 Advances in cosmetic dental treatment means smile enhancement is an easy-fix for a smile that may not be doing you justice. When you look in the mirror, is the smile that's reflected a true representation of who you are? Mann Dental Care, your Sugar Land cosmetic dentist Dr. Mark Mann can revitalize your smile so the real you can shine through!
1. Teeth Whitening: For Whiter, Brighter Teeth
It's an unfortunate fact that teeth discolor and dull with age, and when you factor in coffee, tea, smoking and food-staining, your smile does lose some of its shine. Teeth whitening is the perfect if you're looking to revamp your smile.
Dr Mark Mann uses the ZOOM! Whitening process to return brightness to your smile. By simply applying a whitening gel to your teeth, which is then activated by a laser-light. In as little as an hour, your smile can be whiter and brighter!
If time is a factor, then Dr Mann can customise a teeth-whitening take-home kit for your convenience.
2. Are Porcelain Veneers the Option For You?
Porcelain veneers are a popular choice and are used for a myriad of dental issues. Porcelain is the preferred choice of material for your Sugar Land dentist as it most resembles the look and feel of your natural teeth, and better resists staining than composite resin.
The application of porcelain veneers is usually completed over three dental visits. A small amount of enamel is removed before molds are taken of the affected tooth; a temporary acrylic veneer is put in place while a dental technician creates a custom veneer; the porcelain veneer is then bonded to your tooth and polished to resemble your natural teeth.
You may consider porcelain veneers for:
worn or chipped teeth;
excessive discoloration or staining;
uneven or crooked teeth;
misaligned or gapped teeth.
3. Crowns and Bridges
Crowns and bridges might are an ideal solution to restore your smile in many cases. They are ideal to replace missing teeth, repair chipped or fractured teeth, correct unusual spacing.
Porcelain crowns can restore damaged teeth from tooth decay. If you need crowns, your Sugar Land dentist will bond a porcelain 'cap' to your natural tooth for a seamless fit that matches your surrounding teeth.
Bridges are most commonly used to replace one or more missing teeth. Artificial porcelain caps to your 'anchor' teeth (the teeth either side of the bridge) for a seamless smile. Bridges ensure the integrity of your smile and provide strength to your facial structure.
4. Dental Implants
Dental implants are another option available and are best suited to those with missing or decayed teeth. The restorative procedure works by inserting a metal cylinder in to the bone as a strong and stable foundation for your replacement tooth.
There are many advantages to dental implants:
retains your natural jaw structure;
prevents bone loss;
stimulates natural cell growth;
ability to chew food naturally;
longevity: dental implants can last up to 40 years.

If you are considering any of these procedures? Dr. Mann can help you decide which best suits your needs?