Dentist sedation is the supervised use of anesthesia during dental treatment and designed to ease patients into a peaceful, painless dental cleaning or surgery.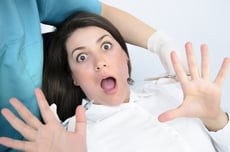 Whether with the use of oral sedatives - the most popular kind of dentist sedation - nitrous oxide, or
intravenous (I.V.) sedation, patients often note that their time in the dental chair seemed to fly by.
Reasons People Love Sedation Dentistry
Truth by told, the fact that patients with a dental phobia can make it through dental treatments with the help of dental sedation is a blessing in itself. Let's take a look at some more reasons that people love getting dental work done under sedation:
Reason #1: Relaxing, quick sessions
As many as one in five U.S. adults have what's known as dental phobia, or fear of the dentist and dental treatment. People with dental phobia often have trouble sleeping the night before a scheduled session, feel increasingly nervous in the dentist's waiting room, and feel uneasy about the thought of dental work itself.
http://www.manndental.com/blog/everything-you-need-to-know-about-dental-phobia
If these symptoms describe what you've been going through, then you're like tens of millions of other Americans. The good news is that sedation dentistry offers a way to significantly lessen your anticipatory anxiety with the supervised use of pre-treatment oral sedatives as well as the usual topical anesthetics during dental treatment itself.
You're not alone, and sedation dentists have the tools to make your session go by…painlessly.
Reason #2: Patients remain in control
Patients worried about visiting the dentist or extensive dental treatment from an implant dentist (e.g., bridge or denture work) should fully embrace the recent advances in sedation dentistry. Why? Because patients can consult with sedation dentists beforehand to plan out the type of sedation that they'd like before and during treatment.
The fact that sedation dentistry makes use of oral sedatives and nitrous oxide, in addition to intravenous sedation, is great for people who have a fear of needles.
Reason #3: Dental Sedation is Affordable
Oral sedation and nitrous oxide sedation is very affordable and covered under most insurance policies. Moreover, patients can collaborate with the sedation dentist to get just the right amount of pain and anxiety management to make treatment quick and easy.
Patients might even end up saving more money when they factor in the fact that they're able to complete more dental work in less time (Reason #7 below) since they're sedated throughout the procedure.
Reason #4: Ideal for patients needing accommodations
Some people understandably find keeping their mouths open and responding to what's going on for hours on end a little trying. The problem of sitting still for an hour or more is compounded for patients with motor disorders like Parkinson's disease or nervous tics.
Although one usually has to be over 18 and healthy enough to undergo sedation, sedation dentists are licensed in their states and can significantly improve treatment for patients needing accommodations.
Reason #5: Sedation makes things less scary
The stories about wisdom teeth removal, bridgework and dentures definitely have snowballed into the stuff of legend. People are needlessly afraid over the amount of time that surgery will take or the psychological defenses they'll have to muster just to tolerate treatment. This is very far from the reality of these procedures for most people.
A light type of sedation known as anxiolysis (meaning anti-anxiety agent) is normally induced with controlled levels of nitrous oxide. This puts patients in a very relaxed state of mind and, along with topical anesthetics, ensures that their dental visit is a painless one. The end result: dental work is a whole lot less scary.
Reason #6: Aware yet tranquil dental visits
Dental sedation is somewhat of a misnomer since many forms of anesthesia keep the patient in a peaceful, semi-conscious state. Unless the patient's anxiety is extremely severe or their movements are uncontrollable and they've requested heavier I.V. sedation, the dental sedation that patients receive will probably leave them conscious and aware of their surroundings.
Reason #7: Dental sedation for time-strapped patients
Although dentist sedation can make the dental visit "feel" significantly shorter, sedation can save some patients actual time. How? Dental sedation often allows the sedation dentist to accomplish more work in fewer sessions and less time.
Take denture work as an example - once the impressions are taken and the preliminary steps completed, patients can receive the sedation appropriate for their health status and anxiety levels, undergo a tooth extraction and have a bridge or denture fitted in the same session. Saving everyone time: another reason people love sedation dentistry.
Can you think of any more ways in which dentist sedation makes a trip to the dentist less stressful?