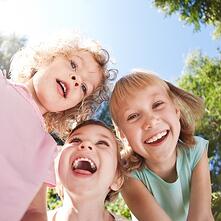 Did you know some general dentists in Sugar Land TX also can maintain your kids' oral health? Your children need the same level of dental care that you enjoy. In fact, children should begin visiting dentists from an early age, so that they learn how to care for their teeth even before their permanent teeth erupt. However, finding a good pediatric dentist may not be as easy as you think. The good news is you can turn to other types of dentists, who can seamlessly accommodate your children's dental health care needs.
There are several dentists who cater just to a specific age group. A dentist that handles the dental needs of young patients is known as pediatric dentist. If you are unable to find such a dentist in Sugarland, Texas, you always can turn to your trusted dentist, as he is qualified and equipped to handle the dental care needs of your child.
Why Opt for Your Dentist to Treat Your Child?
Typically, you will visit a dental practice that offers a wide range of services. Such a practice can handle yours and your children's dental needs. Some of the services that your dentist can offer your child include:
Regular dental check-ups
Fluoride treatment
Teeth cleaning
Other Services Offered by Dentists in Sugar Land TX
There could be instances when your child requires a restorative procedure, such as braces to correct overbite or underbite. You may feel your dentist is not equipped to handle this procedure. On the contrary, most dentists in Sugar Land TX can install not just braces, but also bridges to correct the teeth alignment of young kids and give them a smile makeover.
You also can heave a sigh of relief, as the dentist will be able to restore your child's smile, if he or she has broken a tooth (or teeth) due to a fall or while playing a sport.
Furthermore, your dentist will be able to impart knowledge to your children about how to maintain and look after their teeth and gums. This education plays an important role in your child's life, as with the right knowledge and information they know the importance of oral hygiene. The education also plays a role in making them more responsible towards their dental health, something that stays with them even during adulthood. Do not worry about the limited attention span your kids have, as the dentists will be able to make learning a fun and enjoyable experience that the children will not forget.
So do not worry if you are unable to find a pediatric dentist for your child. Consult reliable and trustworthy dentists in Sugar Land TX, who can and will be more than happy to take care of your children's dental needs. However, make it a point to take your children for a dental check-up every 6 months. This will ensure that any problem is caught early and the right treatment can fix it before it is too late or too expensive to rectify it. Are you ready to ensure your children grow up with the perfect pearly whites?