Family implant dentistry benefits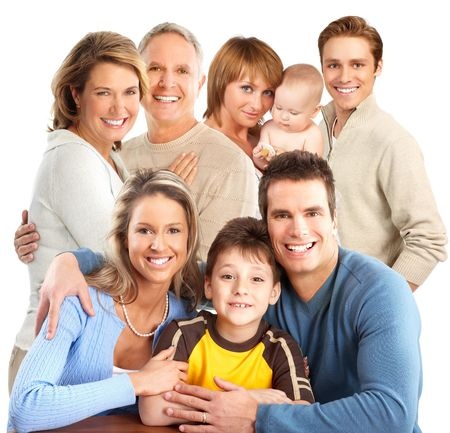 Family implant dentistry has become increasingly popular over the past decade, helping to easily and effectively solve the problem associated with a lost tooth or teeth.
Well over half – 69 percent – of people age 35 to 44 have lost at least one permanent tooth, for reasons ranging from an accident to gum disease, according to the American Association of Oral and Maxillofacial Surgeons (AAOMS). The number increases as we age, and for many people, dental implants are the first choice to help address the problem.
These are replacement tooth roots that hold a replacement tooth or bridge. Implants connect directly to the bone, providing a strong, stable foundation. Family implant dentistry has become increasingly popular in the past decade, for the following reasons:
Our longer lifespans
As people are living longer, they simply have more years during which they can lose one or more teeth. Decay or gum disease can develop over time, or a tooth may be knocked out during a fall. Longer lifespans shouldn't mean a diminished quality of life or health, however, and dental implants can still be effectively placed even when you're older.
Preferable to dentures
Dentures have historically been used to address tooth loss, but they can cause a variety of problems. They can damage the jaw bone and can often slip and be uncomfortable. As a result, you may not be able to chew or speak well and may have irritation in your gum and mouth that may become infected. Dental implants fit securely, so you won't have these problems.
Preventing bone loss
When you have missing teeth, you'll eventually develop bone loss in the area. You can develop problems in your jaw, muscles, and skin, and the shape of your face may even be altered. With dental implants, these significant problems are avoided.
Preserving adjacent teeth
When you lose a tooth, the teeth that surround the missing tooth may shift, causing bite problems. If you choose to have bridgework, your adjacent teeth may have to be filed down. This isn't necessary with a family implant dentistry, because the implant serves as a substitute for the roots of a natural tooth.
Low risks
The risk for complications is low, and dental implants have an overall success rate of about 95 percent, according to the AAOMS. Local anesthesia can be used, and most people have very little discomfort. Over-the-counter pain medications can be used after the anesthetic wears off.
High durability
Many other replacement options, such as dentures or bridges, can be damaged over time, since they're subjected to a great deal of force and wear and tear. Dental implants are so durable that in many cases, they'll last a lifetime with proper care.
Appropriate for many patients
Many people are good candidates for family implant dentistry. Generally, overall health is more of a consideration than age. If you're in good health and have enough bone in your jaw, dental implants may be considered. Tell your dentist if you have diabetes or if you smoke, since this may cause problems.
Improving confidence and appearance
Missing teeth can cause your self-confidence to suffer, along with your appearance. Dental implants can help you look and feel better, feeling confident that your implant will stay in place and look very similar to your natural teeth. You can eat, speak, and do everything you normally do with confidence.
If you've lost a tooth, contact us at Mann Dental Care to find out if a dental implant could be appropriate for you. You could soon be on your way to a better smile as well as better oral health!