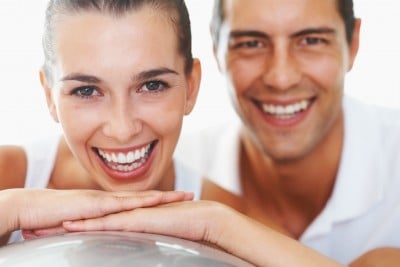 Ever wondered how to achieve the perfect smiles you see on celebrities? Do you want a smile that beams with health and confidence? Mann Dental Care can revive your smile with the latest cosmetic dentistry treatments, and with a free no-risk consultation, you'll be well on your way to your own beautiful smile!
1. Ideal Smiles Begin With Straight Teeth
Misaligned or crooked teeth are a thing of the past. Regain symmetry in your smile with clear aligners in as little as 12 months! After molds are taken of your teeth, the aligners are created for a custom fit. Clear aligners gently position your teeth via set increments – just slip the new aligner in for the next stage of your therapy! So sheer are the aligners, most people won't realize you're wearing them!
The clear advantages of aligners are:
non-invasive therapy;
no visible components;
oral hygiene maintained;
can combine with teeth whitening.
2. Dazzlingly White Teeth
Creating a bright, white smile is simple with the ZOOM! teeth whitening system. Many factors contribute to teeth discolouration: age, genetic predisposition, coffee, tea, smoking, and certain foods, but that doesn't mean you can't revamp your smile. Teeth whitening is a simple procedure; your Sugar Land cosmetic dentist will apply a whitening gel to your teeth, then use a laser light to activate the gel. In one hour, you'll be the owner of amazingly white teeht.
3. Perfect Teeth With Porcelain Veneers
When you look in the mirror, are you happy with the appearance of your teeth? If not, then porcelain veneers could be the solution you're looking for. Porcelain veneers are customized from molds of your teeth, then bonded and polished to create a perfectly symmetrical smile that fits seamlessly with your natural teeth. Veneers are perfect for:
chipped and broken teeth;
worn and uneven teeth;
unusual spacing.
4. Crowns, Bridges & Dental Implants
Crowns and bridges restore smiles by mending chipped or cracked teeth, to replace missing teeth, or to fix unusual spacing in your smile. Dental implants replace missing teeth by attaching an artificial tooth via a surgical steel bar. Dr Mark Mann is a leader in restorative dental procedures, and will work with you to determine your best course of treatment.