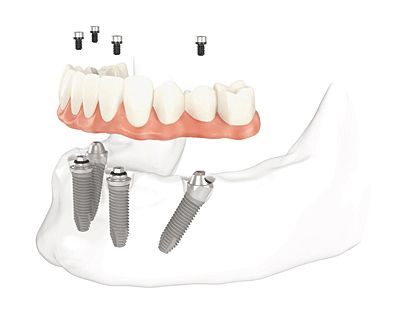 Technology keeps advancing at a rapid pace and in the dental world, we see a number of amazing modern dental implements and techniques that are revolutionizing the field of dentistry and also offer more comfort and ease. If you have missing teeth, worry no more. Dentures aren't your only option! Today, you can get new teeth with the modern miracle of all on 4 dental implants and that too in a single day.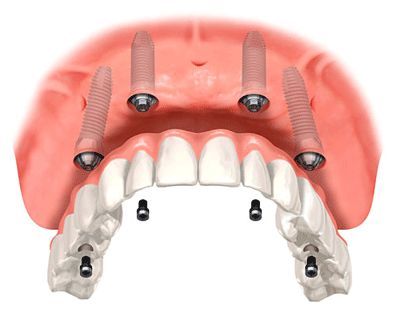 What is a dental implant?
Dental implants serve as replacement teeth for those who suffer from extreme tooth loss. They are made out of titanium because it is strong, durable and biocompatible. You can avail of dental implants for both your lower jaw as well as your upper jaw. Dental implants work so well because the titanium fuses with the existing natural root of the tooth and basically you get 'new teeth'! These implants are strong, pain-free, durable and permanent.
Why you should opt for dental implants?
One of the most advanced pieces of dental technology available today would probably be dental implants. They provide so many more benefits than dentures. Here's why dentists and dental experts feel that you should opt for dental implants:
They help to maintain the integrity of the facial structure or jawbone.
They don't have an adverse effect on the health of existing teeth.
Dental implants are amazing! No other implements have to be used alongside them
They are permanent, comfortable and are secured in a stable place.
They boost your self esteem.
They look so realistic, nobody will question whether those are your real teeth.
How much do dental implants cost?
Dental implants are quite expensive, but you won't feel such a strain on your pocket when you consider the ease and comfort they provide. Each case is different and the cost of the surgery will vary from case to case and will depend on numerous factors. Also, you may have to undergo a few procedures before the surgery to ensure that you will experience the best results. The long term benefits of dental implants are extremely good and you will be glad you opted for dental implants instead of regular dentures!
What are All on 4 Dental Implants?
All on 4 dental implants (Ao4) is the best possible solution for
They are just like regular teeth. You need to brush and clean them.people suffering from extreme tooth loss or people who find wearing dentures difficult. These implants are useful for replacing all teeth in your mouth and offer a permanent solution for missing teeth. Here some benefits of Ao4 dental implants:
They are permanently attached, so there is no need to take them out like dentures.
Adhesives aren't used.
They do not press down on your gums.
They help you to chew your food better.
They help in bone restoration.
They maintain the integrity of the facial structure.
How successful are All on 4 dental implants?
These implants are really as good as getting yourself new teeth. They have a very high success rate, about 98% and are one of the most modern advancements in the field of dental technology. And, the entire procedure – from implants to crowns – is completed within a single day.
How are they different from regular implants?
Regular dental implants use 6 to 8 implants per arch, while the All on 4 dental implant technique makes use of only 4 dental implants in each arch. In this procedure, they are placed at an angle making use of the natural support from your bone. No bone grafts required! You can get a new set of teeth in a day
With all on 4 dental implants, say hello to new teeth and more attractive smile that you will love to flash around.