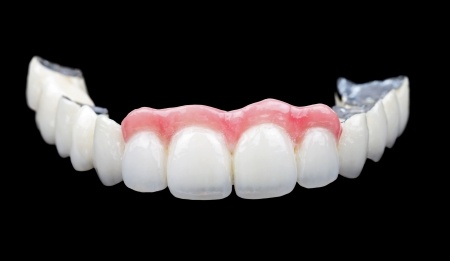 Missing teeth are no longer a problem, thanks to artificial teeth. Today, dentistry and the technology used in dentistry have advanced so much that you can get any kind of false teeth to replace missing teeth. Whether your teeth are damaged by extensive decay, you have lost teeth due to gum disease or the loss is due to trauma, there is a solution to replace your teeth and ensure you have a perfect set of pearly whites.
There are several options in dentistry to replace missing teeth. Some of these are as follows:
Partial Dentures
These are removable false teeth, which have a series of teeth connected to one another with the help of an acrylic or metal band. Also known as Maryland bridge, partial dentures are connected to surrounding teeth using metal clasps that are not visible to others. They are often used for missing front teeth, but can be used for posterior missing teeth.
Full Dentures
In contrast, full dentures are used for the entire arch of the mouth. They can be removed and have to be taken out at night and cleaned properly. The teeth on the dentures are made from resin or acrylic and are fixed to a soft plate that fits into the arch of the mouth. Typically, the suction action keeps the dentures in place, but you also can use special dental adhesive to prevent these dentures from slipping.
To get full dentures, your existing teeth from the arch will have to be removed. Also, as your jawbone will change shape over the years, you will have to get these dentures reshaped using a process known as debasing. In this process, the existing artificial teeth are removed and they are fixed to a new plate that fits your mouth better.
Dental Bridge
This is another method of replacing lost teeth. It can be used to replace one or more missing teeth. Typically, it is used for front teeth, but can also be used for posterior teeth. A dental bridge consists of a false tooth and crowns for the surrounding teeth. The teeth on either side are prepared for accepting the crown and the false tooth is suspended between these.
Dental Implants
This is one of the most expensive dental procedures, but offers a permanent solution for lost teeth. It consists of a screw that is surgically implanted into the jawbone and to the screw an abutment and crown is fixed. The replaced tooth looks just like a natural tooth. The life span of a dental implant is extremely long if proper oral hygiene is maintained.
How Long Do Artificial Teeth Last?
The lifespan of false teeth depends on several factors. Some of these include:
Material used to make the teeth
The type of false teeth
Oral hygiene
Overall health
Typically, removable dentures last for more than seven years, but they do not stimulate your jawbone. Hence, it loses density, causing the dentures to become loose with time.
Bridges and dental implants are long-lasting and with proper care, they can last for more than 10 years if not more.
Making the Right Choice
If you have missing teeth, consult a qualified and experienced dentist today. After evaluating your condition, the dentist will suggest the right treatment to replace the missing teeth. If cost is a factor, be honest and let your dentist know. Many dentists offer financing plans to suit different budgets.
Make sure you ask the dentist about the pros and cons of each type of false teeth. This will help you make an informed decision rather than basing your decision on price.
There are a number of different types of artificial teeth that can suit not just your purse, but also your goal. So, go ahead and smile confidently. There is a false tooth that is perfect to fill in that gap in your mouth!