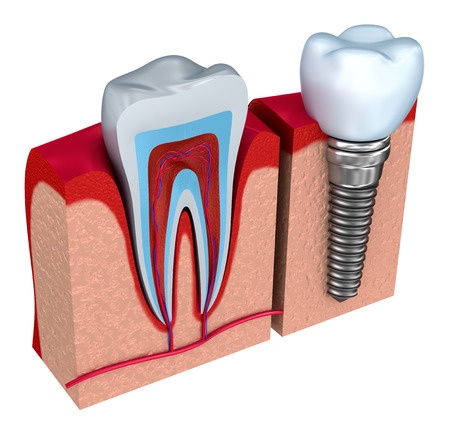 Congratulations for choosing dental implants procedure. You have made a decision that will change your life and help you regain your self-confidence. Above all, dental implants will improve your quality of life. Oral health issues, such as severely decayed teeth, bad breath, missing teeth and worn out teeth, can be addressed with the help of dental implants. And, you have the choice of going in for a single implant or full mouth dental implants. If you wear removable dentures, you can do away with them once you get dental implants.
Many people do not know too much about dental implants and this makes them wary of choosing this treatment. So, here is some information to help you understand the dental implant procedure, so that you can make an informed decision when consulting your dentist.
Good Candidates for Dental Implants
A good candidate for dental implant is one who has good overall health, has healthy gums and has sufficient bone volume in the jawbone to support the implants. If your jawbone has shrunk, which often happens if you have a lot of missing teeth for an extended period of time, you may still be able to get dental implants after a bone grafting procedure. Whether you require bone grafting or not will be told to you by your dentist at the time of thorough oral evaluation and other tests.
The Dental Implants Procedure
There is no need to be stressed or anxious about the procedure. Remember, dental implants will last you a lifetime unlike other alternatives. So, you are making a wise decision. This is what you can expect during the procedure.
The dentist will thoroughly examine your mouth as well as take dental X-rays to determine whether you are a good candidate for dental implants. Thereafter, the surgery will be scheduled to place the implants in your jawbone.
The dental implant surgery is divided into two phases. In the first phase, the dentist will drill a hole into your jawbone to place the titanium screw. The number of holes will depend on the number of implants required. The gum will be stitched again after the screw is place until the screw integrates with the surrounding bone. This could take up to 6 months.
In the second phase of the procedure, the stitched gum will be opened to reveal the titanium screw and the dentist will attach the abutment to it. This is a small post that joins the implant to the dental crown.
You will get a temporary crown during the second stage of the surgery. You will have to wear the temporary crown until your gums heal completely. Thereafter, the permanent crown will be fixed to the abutment and you will have a completely new set of teeth that will be hard to distinguish from real teeth.
Important Points to Consider
Getting dental implants can be long-drawn procedure. So, have patience. The end results will be worth the time you spend in your dentist's office. You will need to visit the office several times until the procedure is completed entirely.
After getting the implants, you will have to visit your dentist regularly at least for the first one year to ensure the implants are functioning properly.
During the recovering period, your dentist will give dos and don'ts. Make sure you follow them to the T to prevent the implants from failing.
Implants are like natural teeth. You will have to brush and floss them like real teeth to maintain them.
Dental implants do cost more than other alternatives, but they are worth the investment you make on your teeth. You will get a new set of completely natural-looking and functional teeth that will help you speak clearly, chew properly and smile once again.
Now that you know what the dental implants procedure entails, you can walk into your dentist's office without feeling anxious and worried about the procedure. So, go right ahead and get a new set of teeth and smile!