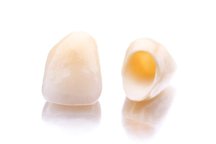 Individuals who have always wanted to transform the look of their smile, may find that dental caps are their key to success. A smile is an important tool and one that can give confidence, impact appearance and help make a friendly first impression. Unfortunately, most people are not born with the smiles they wish they had. Many times teeth misalignments, damage, and deformations can prevent a person from having the smile that they want. This is where caps, or crowns, come in, as they are a powerful way to correct common teeth issues and to help any person have the beautiful, dazzling smile they have always wanted.
Issues That Dental Caps Can Correct
With restorative crowns, a dental professional can easily fix a number of problems that may be preventing their patients from having the smile they have always wanted. Here are some of the many dental problems that caps can help correct:
Small gaps and tooth misalignments
Discolored or badly stained teeth
Misshaped, broken, deteriorating or cracked teeth
Missing teeth
Weak teeth that are susceptible to breaking
Issues with tooth deformation after root canal
Teeth that are impacted by large holes or areas of decay
Patients who have these or any other similar concerns with their teeth, may want to visit a dentist to see what these caps can do for their smile. With a new cap in place any person cannot only restore their smile, but protect their teeth from additional damage, make their teeth stronger, and improve the overall appearance.
Choosing the Right Type of Crowns
The average dental cap can last for 10 to 20 years, which means choosing the right type of cap is paramount. There are a variety of different options on the market today, with some being more advanced, and often more costly, than others. Here are some of the main options that today's patients have to choose from.
Porcelain or Ceramic
These look like natural teeth and do not contain any metal, meaning there will never be any visibility near the gum line as there are with other crowns. These caps also will not cause allergic reactions like metal implants will. They are permanently bonded to the tooth, meaning they are less likely to come off.
Resin
While these implant options are budget friendly, they are usually only used as temporary solutions as they are known to break and fracture easily.
Stainless Steel
These implants are used typically for children's primary teeth or for temporary crowns. Many times, temporaries are put in place, while a permanent cap is being created.

Acrylic
These are another temporary option and are designed to protect damaged, broken or fragile teeth while a permanent solution is being created.
Metal
One of the oldest types of caps are metal, typically made of gold, palladium, chrome, nickel or other similar alloys. These implants are ultra durable and resistant to chipping and breaking. However, they are not as natural looking as other cap options.
When it comes to choosing the right type of dental cap, most dentists will walk through the different options with their patients, informing them of the positives and negatives of each option. Different caps come at different price points and ultimately the right solution is the one that the patient feels most confident in.
Caring for Your Cap Implant
After new dental caps have been put in, many are surprised to find how easy they are to care for. Since caps are a permanent addition to the teeth, they can be cared for in a similar manner to teeth. Regular brushing and routine flossing can help preserve the integrity of this new tooth addition and keep them looking their best for years. In addition to proper daily care, it is important to visit a dentist twice a year for checkups and to determine if any issues are forming in dental caps.