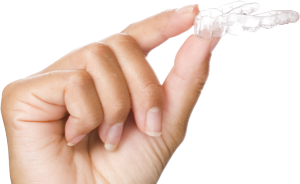 Clear aligner Therapy (CAT) is a perfect solution to misaligned or crooked teeth. There's no need to hide your smile when Mann Dental Care can restore symmetry to your teeth and have you beaming with happiness and confidence in as little as 12 months!
1. Sheer Perfection
If you've avoided straightening your teeth due to the stigma associated with metal-braces, then you will be grinning throughout your therapy. These clear trays have no visible components when they're in you mouth. This means most people won't realize you're having your teeth straightened! They really are sheer perfection!
2.No Pain and Everything To Gain!
Pain-free teeth straightening? You bet! Invisible aligners are custom-fit to slip seamlessly over your teeth (similar to a mouth-guard), and realign your teeth in gentle increments. With CAT, you won't suffer tension pressure on your gums, or have the metal components of braces scrape painfully at the inside of your mouth. Simply slip the aligners over your teeth and your treatment has begun!
Clear aligner therapy is perfect for:
misaligned teeth;
overbites and underbites;
overcrowded teeth;
unusual spacing.
3. Comfort and Convenience
Don't have time to undertake teeth straightening? Don't want the hassle of all it involves? Then CAT is your best choice. Clear aligner therapy is designed to fit with your lifestyle, not the other way around. At your first dental visit, impressions will be made of your teeth then clear aligners customized for you. With occasional visits to check your progress, you move through each stage of the straightening process by simply switching to your next aligner.
Still not convinced? These aligner trays can be removed at any time; just slip them off when you eat or drink, then pop them back into place when you're done. You are in control of your therapy, just remember, the more you wear your aligners, the quicker your journey to a beautiful smile!
4. Hygienically Superior
It's true. Your oral hygiene regimen isn't compromised as it would be with metal braces. With clear aligners, you have access to the whole surface area of your teeth and your flossing routine won't be stymied. They can also be used in conjunction with a teeth whitening process to deliver a straighter, whiter smile!
What is it about CAT that most appeals to you?