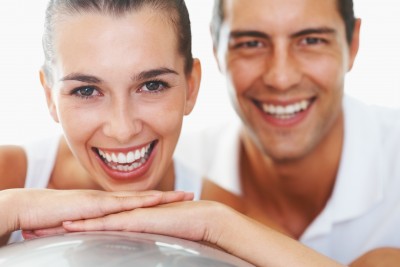 Mann Dental Care believes all people should have beautiful smiles! You don't have to be a movie star or tv personality to have a smile that's pure perfection; your Sugar Land cosmetic dentist can revitalize your smile and have you walking your own red carpet and flashing your gorgeous smile for all you see.
1. Smiles Dazzle With Teeth Whitening
It's a fact of life that teeth dull with age, and when you add in lifestyle factors such as coffee, tea, smoking, and certain food, your teeth will begin to lose their luster. A quick and simple teeth whitening procedure can revamp your smile in your lunch-break.
By simply applying a whitening gel your teeth, a laser light is then used to activate the process, and before you know it, you will be beaming those pearly whitess to everyone! Alternatively, a customized do-it-yourself kit is also available.
2. Porcelain Veneers Create Gorgeous Smiles
Porcelain veneers are the perfect restorative procedure to restore symmetry and color to your teeth. Porcelain veneers can resolve:
chipped and broken teeth;
worn and uneven teeth;
unusual spacing.
The process is completed in three steps:
molds are taken of your teeth and temporary acrylic veneers applied;
porcelain veneers customized by a dental technician;
porcelain veneers are bonded to your teeth then polished to match your natural teeth.
3. Crowns, Bridges and Dental Implants Revive The Beauty of Smiles
The cosmetic restorative procedures of crowns and bridges can revive your smile by attending to cracked or chipped teeth, replacing missing teeth, filling in a 'gappy' smile, or to strengthen worn teeth. Crowns are like a little 'hat' bonded to your natural tooth to maintain strength and color, where bridges are used to replace missing teeth.
Dental implants are the strongest and most durable of the restorative procedures. A surgical-steel bar is used as a stable platform for an artificial tooth. They promote cell growth and reduce bone loss to your jaw.
4. The Facts of Clear Aligners For a Straighter Smile
Straighter teeth are an easy fix with clear aligner therapy. If your teeth are uneven or misaligned, the almost invisible aligners will gently move your teeth into position in as little as twelve months. Easily removable, with no visible components and no aggressive pressure, they also promote greater oral hygiene!