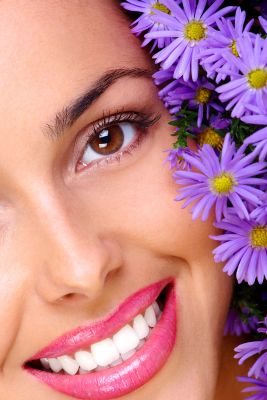 If you want to achieve a beautiful smile, dentist Dr. Mark Mann recommends these five handy do's and don'ts.
Tip Number One: Brush at least twice daily!
In order to keep a healthy smile, Dr. Mann insists that you vigilantly brush your teeth twice per day. "Everyone says that they know this, but when I look at teeth, I can always tell fact from fiction." Twice daily brushing helps decrease the buildup of plaque that can otherwise hide from less frequent brushing, and cause problems frequently associated with teeth problems.This is the easiest way to ensure you keep that beautiful and healthy smile!
Tip Number Two: Floss At Least Once Per Day!
While everyone knows that flossing is important, few really understand the many benefits of this behavior. When done after brushing, flossing doesn't simply clean out the hard to reach plaque needed for a beautiful smile, Dr. Mann says. "Flossing is also integral for healthy gums. Healthy gums make for healthy teeth. It's like love and marriage: you can't have one without the other."
Too often, people only floss when something is stuck in their teeth, like meat. While flossing is ideal for this, it also must be used as a daily behavior.
Tip Number Three: Whitening Strips Cannot Replace Teeth Cleaning!
Whitening strips can be a convenient tool for maintaining white teeth, but if you are really concerned with oral health, use of these must be limited. "While whitening strips have their place, they can never replace a complete visit to a cosmetic dentist," says Dr. Mann. "During a routine cleaning, a skilled dental provider will recognize problems in their early stages, something whitening strips simply can't do."
Furthermore, proper teeth cleaning is a tried and true method of keeping teeth white. While new products may come and go, there is no refuting the tested hands of a skilled professional.
Tip Number Four: A Healthy Diet Can Make All the Difference!
As the old adage has it, "an apple a day keeps the doctor away." This is not only because fruits and vegetables are necessary for good overall health, but because foods that are high in calcium contribute to strong tooth enamel. "Eating too many sweets will negatively affect your teeth and hince your smile," Dr. Mann says. Furthermore, a crispy apple will come into contact with your gums, strengthening them as well.
Along with fruits and vegetables, diets that are high in calcium from other sources, such as milk, yogurt, and other dairy products will make for a beautiful smile.
Tip Number Five: Routine Cleanings and Check-Ups Are a Must!
"All the best habits in the world still cannot guarantee a healthy smile," Dr. Mann says. Whether it be a fractured tooth, a root canal, or just a routine cleaning, it is only the watchful eye of your dental professional that can ensure that your smile remains beautiful. Dentist offices have all of the tools required to maintain proper oral health, and wise customers will take advantage of this at every turn.
These are only five of the tips that C. Mark Mann D.D.S. will be happy to provide at your next convenience.