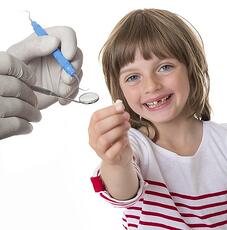 It may seem irrelevant to take your child to a dentist for kids when he is not suffering from a nerving tooth ache or growing a bunny tooth. As a matter of fact, ensuring that your child visits the dentist regularly on a flexible schedule will ensure that he has healthy tooth and gums for the rest of his life. But before you take your kid to the dentist, you must first look for the most appropriate and skilled pediatric dentist in your town or city. If you are confused about how to go about looking for a dentist for your child, here are some invaluable tips.
1. Get recommendations
One of the easiest ways to find a kids' dentist is to seek recommendations. This will help you to narrow down your list of dentists from the yellow pages and directories that you may have been looking up online and offline. Taking suggestions from family, friends, neighbors, co-workers, relatives or even your general physician will help you find a truly skilled and professional dentist for kids. Even your local pharmacist may be able to help you find the right dentist for your bundle of joy.
2. Professional listings
Most states have a dental association that is publicly known. You could get in touch with such an association and brush through different dentist profiles online or offline and finally decide on which one to take your child to. Since each small or big establishment has a website today, you will be able to find many association websites that provide dentist directory as well as a online dentist locator.
3. Referral
If you have a dentist already and you are not quite impressed by his practice or your child is not comfortable with him, you could check if the dentist can suggest someone near your home.
To make sure that your child maintains good oral hygiene, he needs to share a good relationship between him and his dentist. It may become inevitable for you to be disappointed with your child not liking or feeling comfortable with the first few dentists that he meets. Be prepared to hop clinics, but never be dejected.
In the meantime, there are some things you must consider. Such as:
4. Convenience of the location
If the dentist's clinic is far away, you may have a hard time making it to your child's dental appointment on time. Besides, it may need advance planning should you be willing to visit the doctor anytime. Dental emergencies, in such cases, may be beyond difficult to deal with.
5. Availability
If the clinic is of premium standards, you must find out how fast the appointments are given. The appointments should ideally not take more than 24 hours to be scheduled. Make sure it does not take more than this stipulated time frame.
6. Payment options
Knowing how the dentist for kids takes payment for his treatments is important. At some point if you happen to run out of cash, you could pay via other methods. This is what makes a dental clinic friendlier to the people's needs and patient's comfort.
7. Dentist's experience
A kids' dentist must be experienced in handling children to say the least. If the dentist has had experience with children with special needs, those with autism, disabilities, HIV/AIDS or diabetes. It may be an added advantage for you, that is, if your child is suffering from one of these health conditions.
A pediatric dentist must be friendly and polite yet strict in his behavior with the children. If your child is nervous about dental procedures, the dentist must be able to help your child feel comfortable and brave about undergoing them. Above all, a good dentist for kids circumscribes the characteristics of a second parent and a half teacher. Does your child's dentist fit these criteria? No? Then it is time to look for a new one.