5 Reasons Why Being Afraid Of the Dentist Is Common In The USA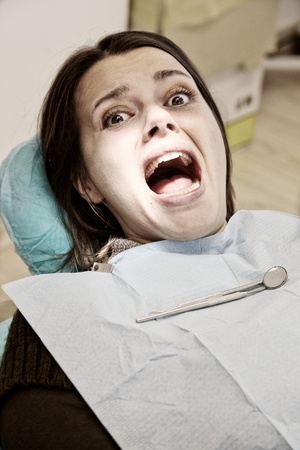 It is estimated anywhere from 5 percent to 8 percent people in America are afraid of the dentist, according to an article published on the WebMD website. This dental phobia can prevent you from visiting a dentist and maintaining your oral health and hygiene.
Dentists have been trying for a long time to shed the image they have of being terrifying and thanks to modern dentistry practices, many have been successful to a certain extent. There are the 5 most common reasons why people think twice about visiting a dentist. Maybe you will be able to identify with them.
1. The Dental Drill
Some people may be fine with visiting a dentist, but the moment they hear the drill, they get a panic attack and experience sweaty palms. Sounds tend to amplify in the mouth and this mere thought of a drill is sufficient for many patients to head for the hills.
Dental scientists have taken this into account and developed quieter drills that no longer rattle your brains like the drills that were in existence a couple of decades ago. These new, state-of-the-art drills can ease a lot of your anxiety, but if you still can't relax, carry noise-blocking headphones to your dentist and you should be fine.
2. Fear of Pain
The other common reason to be afraid of the dentist is the fear of pain. The most common question that patients ask is will the dental procedure hurt. Yes, some dental procedures can be excruciating and if you have been through one such procedure, the thought of dental pain will prevent you from seeking dental treatment.
Thankfully, this is no longer the case, as many dentists offer sedation dentistry that makes the entire dental procedure a painless experience. Right from nitrous oxide and oral sedation to IV sedation and general anesthesia are available to calm dental patients down, so that the dentist can perform efficiently and effectively. Today, modern dentistry is pain-free, comfortable and easy.
3. Sounds and Smells in Dental Offices
When you are already afraid, your senses are highly attuned to your surroundings. You can smell slight odors and hear minutest of sounds without any problem. As a result, many patients hate the antiseptic smell in dental offices or the sounds of drills or patients screaming!
Many dentists have realized this and changed the ambience and décor of their dental offices to make it soothing and comforting. It is common nowadays to hear light soothing music in the background or hear the relaxing sound of waterfalls in dental offices. Also, many dental offices are using air purifiers to keep their premises odor-free and clean and fresh-smelling.
4. Bad Memories
Our brains are wired for fear and any poor experience you had with a dentist in the past will come back to haunt you in the future. Usually, these experiences occur as a child when you are frightened of practically everything that you shouldn't be afraid of. So, in such cases being afraid of the dentist is nothing but reliving a horrible experience from your past and feeling helpless that there is nothing you can do to get over it.
If you are afraid of visiting a dentist because of bad memories, speak about your fears to the dentist. You will find most good dentists are great communicators and will go out of their way to allay your fear and instill trust and confidence into you. If nothing else works, you can always fall back on sedation dentistry to have a stress- and anxiety-free experience at the dentist. This will help create new memories that will make it easier for you to visit the dentist the next time round.
5. Afraid of Being Scolded or Lectured By the Dentist
It may come as a surprise to learn that many people are embarrassed of their teeth and gums and don't want the dentist scolding them over their state and/or health. While some dentists cannot stop rebuking you, majority will always give you constructive feedback rather than humiliating you.
It is a dentist's job to care for your oral health and anything a dentist tells you is not to embarrass you. Rather, it is to prevent major dental treatments later on. If you take it like that, you will no longer be afraid to visit your dentist.
It is prudent to remember a dentist is here to help you enjoy optimal dental and oral health. He is your friend and not your enemy. It is natural to experience some degree of fear. However, if being afraid of the dentist is preventing you from maintaining your oral health, it is time you find a qualified and understanding dentist and speak to him about your fears. You will be surprised how well the dentist will tackle your fears and put your dental phobia to rest.