5 Benefits of Porcelain Bridge Cost That May Change Your Perspective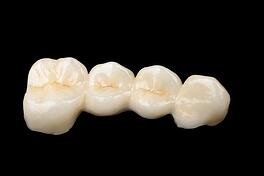 No one should have to live with missing or broken teeth. Large gaps in between your teeth can alter your facial appearance (make you look older), affect your bite, result in gum problems and tooth decay and even increase the strain on the surrounding teeth. It can affect your confidence, your speech and your ability to eat, as well. But how do you fix your smile without having to deal with a hefty bill?
You can try getting a porcelain bridge. Bridges help cover up the gaps between teeth, which are a result of those gone missing. It has crowns on either end to anchor the false teeth (or tooth) in place.
Porcelain bridge cost is fairly affordable amount that can range from $500 to $1,200 per artificial tooth. If you think that is a bit pricey, have you considered the benefits that come with porcelain bridges?
1. Long-lasting
Porcelain bridges can last for almost 15 years or even longer which is a remarkable period of time. Porcelain is a durable material. If you maintain good oral hygiene on a daily basis - brushing twice a day, then flossing and get your teeth checked by your dentist on a regularly basis - you can ensure your artificial teeth remain durable, natural looking and completely functional for a very long time.
2. It is Less Invasive
Implants involve a very invasive surgical procedure. You may also need more than one surgery to complete the process of placing all the implants. If you have insufficient natural bone available, you will need a bone graft to support the implant. To avoid all that you can settle for a porcelain bridge, which is not as invasive. Plus the cost of porcelain bridges are much lower than dental implants.
3. Affordable Cosmetic Fix
If you have missing teeth at the front, you will need a quick fix. The best option you have is porcelain dental bridges because they can replace all your missing teeth at once. When you lose your teeth, it can affect your appearance. Your lips will appear to shrink if your front teeth are gone and your cheeks will sink is the ones on the sides are no longer in place. Bridges can easily mend your smile and maintain the shape of your face. Also missing teeth can affect the structure of your jaw bone. With the help of the bridge you can prevent that from happening.
4. No Need for Removal
Once a bridge is placed in the mouth to, well, bridge the gap between your teeth, there is no need to remove it. You will not have to remove it from its place for the purpose of cleaning, like partial dentures. As a result you will not have to spend on special cleaning liquids and adhesives. Making porcelain bridge cost worth its price again.
5. Fixes Other Teeth Too
Did you know that with a porcelain bridge you can have multiple teeth fixed for the price of one? If the teeth on either side of the gap are broken down or heavily filled (because of cavities) then there is no need to have two special crowns to be made. Since a porcelain bridge uses a crown on either end to keep it in place, it can help protect these teeth and prevent them from getting weaker and further damaged. Which again makes the porcelain bridge cost worth every penny you pay.
So the next time you wonder about porcelain bridge cost consider the benefits you will enjoy. The advantages of a porcelain bridge definitely outweigh the expenses and if you take good care of the bridge, it can last you a lifetime. Speak to your dental specialist today to find out whether porcelain bridges are right for you.